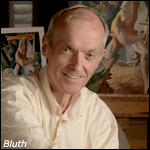 Donald Virgil "Don" Bluth
is an American animator, writer, producer, and director. Born on September 13, 1937, he began working for Disney in the 1950's and left in the 1980's to start making his own animated films, i.e.
An American Tail
,
All Dogs Go To Heaven
, and
The Land Before Time
. In 1983, he animated the innovative, cinematic video game
Dragon's Lair
. Two similar games followed,
Dragon's Lair II: Time Warp
and
Space Ace
. To date,
Titan A.E.
is the last Don Bluth-directed film. He and Gary Goldman are currently searching for funding to begin production on the film adaptation of
Dragon's Lair
, which is in development hell.
Biography
Edit
Born into a family of seven children in El Paso, Texas, he grew up in Payson, Utah. After seeing Disney's Snow White and the Seven Dwarfs, Bluth knew he wanted to be an animator and after high school in 1954 he attended Bringham Young University and one year later got a job at Walt Disney Animation Studios assisting John Lounsbury on Sleeping Beauty, but left the studio in 1957 to help his brother Fred with directing stage plays. He later returned to Disney in 1971 and worked as an animator on Robin Hood, The Many Adventures of Winnie the Pooh, The Rescuers and The Fox and the Hound, among others. After leaving Disney, he formed Don Bluth Productions and began his directing career with The Secret of NIMH, to be followed by the above-mentioned video games and films. He has an official website called DonBluth.com, however, currently it merely shows an image from Dragon's Lair.
Selected filmography
Edit
Sleeping Beauty (1959, assistant director, animator)
The Sword in the Stone (1963, assistant director, animator)
Robin Hood (1973, character animator)
Winnie the Pooh and Tigger Too (1974, short film)
The Many Adventures of Winnie the Pooh (1977, animation director, character animator)
The Rescuers (1977, animation director)
Pete's Dragon (1977, animation director)
The Small One (1978, short film)
Banjo the Woodpile Cat (1979, short film)
Xanadu (1980, animated sequence)
The Fox and the Hound (1981, animator)
The Secret of NIMH (1982)
Dragon's Lair (1983, video game)
Dragon's Lair (1983, TV series)
Space Ace (1984, video game)
An American Tail (1986)
The Land Before Time (1988)
All Dogs Go to Heaven (1980)
Dragon's Lair II: Time Warp (1991, video game)
Rock-a-Doodle (1992)
Thumbelina (1994)
A Troll in Central Park (1994)
The Pebble and the Penguin (1995)
Anastasia (1997)
Bartok the Magnificent (1999)
Titan A.E. (2000)
Tapper World Tour (2010, video game)